Pause, Traveler
by Erin Hollowell
ADVANCE PRAISE

Erin Coughlin Hollowell's Pause, Traveler, is a brave book, full of poems that find not much to hang onto in this shaky and often dark world, but they hang on anyway , with a fierce joy. Inside each of them is the tension of 'a crust, a crypt, a bomb,' but every day arrives new, with its hopes. There's the Iceworm Festival in the dead of an Alaskan winter: 'Heck, why not?' she writes. A man with a brain tumor is crowned 'Citizen of the Year,' the Girl Scouts sing, and the night is lit from the inside. Reading these poems, I begin to be grateful for what's cracked, what's broken, and grateful for Hollowell's eye that looks straight at it all, and makes of it these splendid, clear poems.
—Fleda Brown, Poet Laureate of Delaware emeritus, author of Reunion, winner of the Felix Pollak Prize
'There is a place where conversation ends. / Where a person becomes a locked door,' Erin Coughlin Hollowell writes. And I think, yes, exactly, because this is where her poems pick up, dusting the outline of things left unsaid or unsayable. Densely packed as glacial ice, her short lines carry weight of many worlds—the charged desire and loneliness of a New York subway, the stale coffee of a South Dakota truck stop, a woman in a family photo who smells 'of breast milk, maple leaves / and the dirty fingerprints of boys.' Finally, we are led home to a place alive with sandhill cranes and kelp and sea lions. Here you have a woman who has traveled far and has paid attention. I am grateful to be able to journey with her.

—Nickole Brown, author of Sister: Poems
The beautiful but often psychologically searing poems of Erin Coughlin Hollowell's Pause, Traveler recall Robert Frank's book of photographs, The Americans. In poem after poem, Hollowell draws portraits of the kind of nearly gutted American soul Frank saw as he crossed the continent to take so many of his famous portraits. Her careful predication, sharp lineation, and spare but agonizing imagery takes each poem far into the soul of a human being who is in hardscrabble transition.

—Kevin Clark, author of Self Portrait with Expletives
---
REVIEWS
In "Notable Books" for Poetry Northwest
GoodReads Reviews for Pause, Traveler
Amazon Reviews for Pause, Traveler
[ back to top ]
---
READ AN EXCERPT
Pause, Traveler
Some evenings
come suddenly with the hush
of unasked-for embrace. Small lights
blear weakly on the houses, artificial
stars for this season of long darkness.
No one dares travel down the road
between the tombs of heaped snow.
Ice crazes the surface of windows.
The earth shifts.
Everything is cracked. Nothing is perfect.
Let it suffice that there is some green
gathered from the forest, some remembrance
we meant to live forever
in this long season of silence.
If we knew how the story ended,
how could we keep living it?

[ back to top ]
---
AUTHOR'S BIOGRAPHY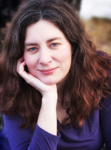 Erin Coughlin Hollowell is a poet and writer who lives at the end of the road in Alaska. Prior to landing in Alaska, she lived on both coasts, in big cities and small towns, pursuing many different professions from tapestry weaving to arts administration. She earned her MFA from the Rainier Writing Workshop at Pacific Lutheran University in 2009. Currently, she is an adjunct professor for the University of Alaska. Her work has most recently been published in Alaska Quarterly Review, Weber Studies, Terrain: A Journal of the Built and Natural Environment, Sugar House Review, and Permafrost.
[ back to top ]
---
EVENTS