Road Trip
by Mark Rozema
ADVANCE PRAISE

"In these essays of exploration and quest, Mark Rozema relates tales of danger and exhilaration, serenity and solace, the sustenance of his own experiences and those of the people he meets travelling 'a road that pulls you in . . . wind and an aching blue sky . . . .' Rozema's easy, narrative prose, filled with the names and details of plants, mountains, rivers, animals, the towns he passes through, often becomes beautifully lyrical, touching the power of what wild land and sky together mean to the human soul."
— Pattiann Rogers, author of Firekeeper, Generations and Holy Heathen Rhapsody

"In Road Trip, essayist Mark Rozema takes us along on a journey over several decades, as he comes to terms with change and loss, including losing his father to Alzheimer's disease. In prose clear and luminous as 'stones at the bottom of the river,' he reminds us of the power of place as he describes growing up outside Flagstaff, Arizona. From there we range to the North Cascades, then to a cabin outside Fairbanks, Alaska, finding grace in unexpected places along the way. Next time you take a road trip, you'll want Mark Rozema at the wheel; his lyric, engaging prose offers readers many moments of stunning beauty and much well-earned wisdom."
— Holly J. Hughes, author of Sailing by Ravens

"The best writing, like a deep breath and a clear thought, seems effortless. Such are the essays in Road Trip. Rozema covers ground—a lot of it. Witness Alaska's Resurrection River 'as it tumbles through wind-sheared tundra.' 'Glissade down narrow snow chutes' surrounding Washington's Enchantment Basin. Tour the sifting cinder hill country northeast of Flagstaff. In these essays, landscape details are precise and sensual but unstudied, delivered by an introspective writer who's not just 'been there,' but in memory, desire, and regret, lives there. Take this trip. Let Mark Rozema guide you into 'a world of curves, where every turn leads to surprise.' You'll find such beauty here."

— Ann Cummins, author of Yellowcake and Red Ant House.
---
REVIEWS
Isthmus sits down with Mark Rozema to talk about Road Trip
For this month's Southwest Book Review, Mary Sojourner spoke with author Mark Rozema about his memoir Road Trip.

Kirkus Reviews loves Road Trip!
[ back to top ]
---
READ AN EXCERPT
Excerpt from "What Is Not Seen" from Road Trip
Sometimes there are signs when these things are about to happen, but I didn't yet know how to read them. I was not attuned to the language of snow—the muffled whump! that precedes a separating slab or the delicate shift that precedes a sudden snap over a twinkling of loose sugary crystals.
There are some physical sensations a person doesn't forget. One such sensation is to have your body punch through a surface that you thought was solid and to feel your legs swing freely in a space you can't see. It is a sensation I don't care to repeat, but I confess that the recollection of it is enough to remind me how much I love my life and wish it to continue.
[ back to top ]
---
AUTHOR'S BIOGRAPHY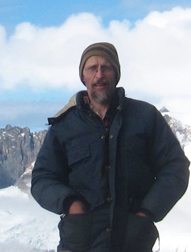 Mark Rozema was raised in the mountain town of Flagstaff, Arizona. His formative years were spent in the bed of a pickup truck, careening down dusty Reservation roads, exploring remote canyons with his dingo-Aussie mutt. Adulthood found him on farms, fishing boats, fire lines, in group homes, and in classrooms. After leaving Arizona, he wandered through Utah, Alaska, and Montana, eventually landing in Washington, where he now tutors students at Edmonds Community College. He received an MFA from the University of Montana in 1990. His writing celebrates the ways in which identity is shaped by relationships to landscape, community and family. His essays can be found in various journals, including Flyway, Weber Studies, Isthmus, Under The Sun, Sport Literate, and Superstition Review. He lives in Shoreline, Washington, with his wife, daughter, and two dogs. Road Trip is his first book.
[ back to top ]
---
EVENTS