Becoming Earth
by Eva Saulitis
ADVANCE PRAISE
Eva Saulitis's Becoming Earth is a glorious book. It begins with cancer and then, in elegant prose, unfolds into a meditation on wildness, until it is brimming at its banks with wonder. Never falsely wise, and never ever sentimental or brave, Saulitis left me breathless with realization. Her reflections on human hair, on the differences between restoration and recovery, on the nuances of human relationship as spouses navigate cancer, all surprised and startled me, but the core image of the book is that of a salmon stream stinking with dead and dying fish. Only a wildlife biologist could see in that stream the charged and lovely overflow of life that made it?and see also that the cancer inside her is of the same remarkable wildness. This is spiritual work without any pretense to spirituality. It is what the Buddha would have written had he been trained in wildlife biology. Becoming Earth leaves you, strangely, feeling released, and grateful, and receptive to the world.
- Kent Meyers, author of The Work of Wolves
The intricate preciousness of each moment, life, place on earth . . . who has ever told of any of this with more exquisite, moving prose, or compelling tenderness? Thank you forever, Eva Saulitis, for your most astonishing, unflinchingly honest book. Your readers will continue to be moved and changed.
- Naomi Shihab Nye, author of Transfer
It's grievous to consider that such a lovely and complex voice as this has been cut short. In Becoming Earth, Eva Saulitis cites Keat' definition of negative capability, "the capacity to remain in uncertainties, Mysteries, doubts without any irritable reaching after fact and reason." She takes herself beyond that restrictive, narrow definition, by acknowledging the terrible facts and reasons for her life's rapid winding down. But she never lets go of mystery, never stops looking out into the world and looking into the words of other writers that help her live with uncerta inties. Eva Saulitis has a remarkable ability to pivot from hard circumstance to an insistence that we be aware of the rich world she loves. Through the gift of her words, she has made a rich life those who read her will continue to inhabit.
- Frank Soos, author of Unpleasantries
We are all temporary creatures, made from Earth and destined to yield back our substance, if not our souls, when we die. Dust to dust. It's a story as old as life itself, yet Eva Saulitis makes it feel fresh. Could she have achieved such insight and eloquence without suffering a terminal illness? Perhaps not. But neither could she have told her mortal story so powerfully if she were not also a gifted writer and a passionate observer of nature. We must regret her passing, and rejoice in the testament she has left.
-Scott Russell Sanders, author of Divine Animal
I can't think of any writer who has better brought to bear on the subject of illness and the approach of death such a combination of literary skills, personal vision, and hard-won wisdom. The wisdom here is so hard-won that it seems almost unfair for us to get to share it without the suffering that made unearthing it possible.
Becoming Earth is not just an extraordinary personal memoir, but a challenge to examine our own lives as we strive to maintain them, and as we one day approach the end of them. It's a challenge few, if any, of us will be able to meet with such wisdom and grace, but it's a worthy guide to that calling.
- Kesler Woodward, author of Painting in the North
In Becoming Earth, Eva Saulitis shares an urgent dialogue between herself and the world, a conversation filled with luminous honesty and deep knowing. This is an unforgettable inquiry into the inextricable natures of the self and the earth as well as the entwining of past, present, and the ever-illusory future, of terror and tenderness, despair and hope, damage and solace, desire and surrender, love and loss—all of which is to say, life and death. Guided by a poet's eye, a poet's heart, and a poet's mind, Eva explores both the terrain of her experience and the terrain of the numinous, that mysterium tremendum that surrounds us. I expected this account of her journey to be heartbreaking – and it is – but more crucially, it is infused with a profound kenning of the relationship between the body and the body of the landscape. I finished thinking that this was the most beautiful prayer I've ever heard.
- Sherry Simpson, author of The Dominion of Bears
---
REVIEWS
[ back to top ]
---
READ AN EXCERPT
[ back to top ]
---
AUTHOR'S BIOGRAPHY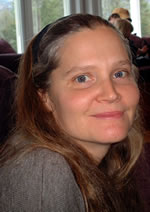 Poet and marine biologist Eva Saulitis had studied orcas in Prince William Sound, Alaska, since 1983 with her partner Craig Matkin. She is the author of Prayer in Wind (poetry); Into Great Silence: A Memoir of Discovery and Loss Among Vanishing Orcas (memoir); Many Ways to Say It (poetry); and Leaving Resurrection (essays). Her work has appeared in many journals, including Crazyhorse, Ecotone, Prairie Schooner, Quarterly West, On Earth, Salon, and Orion. A recipient of the 2013 Governor' s Award for the Humanities, she lived in Homer, Alaska.
[ back to top ]
---